Trout fishing in Haywood County NC is an important part of the tourism industry. There are several hatchery supported trout creeks in Haywood County. Our real estate office at WNC Real Estate Store is located on Jonathan Creek in Maggie Valley, which is a popular hatchery supported trout creek. The season on Jonathan Creek is from the first Saturday in April through the following March 1st. Jonathan Creek has no bait limits, no size limit, and a seven trout creel limit.  Between March and July of each year 15,500 Brook, Rainbow, and Brown Trout are released into Jonathan Creek.
Other Haywood County hatchery supported waters include Richland Creek and parts of the Pigeon River. Wild Trout waters in Haywood County include the watershed feeding the West Fork of the Pigeon River in the mountains above Lake Logan, creeks in the Shining Rock Wilderness,  the Hemphill Creek watershed and tributaries of Hurricane Creek and other creeks in Northern Haywood County near the Tennessee border that feed the Pigeon River.
A great trip to understand trout fisheries management in North Carolina is to the state cool water trout hatchery in the Pisgah National Forest. The hatchery shares a site with the Pisgah Center for Wildlife Education, and also several trailheads including the wonderful hike to the top of Johns Rock. Camping, rock climbing, fishing, and swimming opportunities are plentiful in this area. Camping and hiking in the primitive areas of the Upper Davidson River has always been one of my family's favorite destinations.
Setzer Trout Hatchery on the Davidson River is located in the Pisgah National Forest near Brevard, Bobby N. Setzer State Fish Hatchery is the state's largest trout hatchery. The facility consists of 16 indoor rearing tanks, where trout are kept until they are "fingerlings" (about three inches long), and 54 outdoor raceways, where the fish are grown until they are "catchable" size (at least 10 inches long). The water supply for the hatchery comes from surface water diversions on Davidson River and Grogan Creek, which supply about 3,500 gallons per minute of cold mountain water year-round. The Bobby N. Setzer Hatchery produces both fingerling- and catchable-trout for the Wildlife Resources Commission's hatchery-supported trout waters program. (NC Wildlife Resources Commission)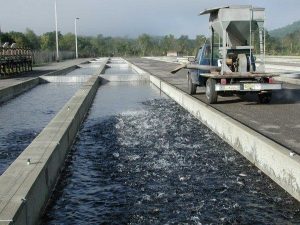 Setzer Fish hatchery
Bobby N. Setzer Hatchery maintains its own strains of brook, brown and rainbow trout broodstock. These fish supply the fertilized eggs used to produce successive generations of trout. Mature broodfish are spawned during October and November, and the fertilized eggs are maintained in incubators until hatching, usually 30-40 days. For the following year, the fish are given a nutritionally complete feed two to three times each day, and grow at a rate up to one inch per month. Sixteen months after the eggs are spawned, 10-inch trout are ready for stocking. (NC Wildlife Resources Commission)
The Wildlife Resources Commission uses hatchery-reared fish for a variety of purposes, including enhancing existing fisheries and establishing new populations. Each year, Commission staff stocks approximately 6 million fish in public lakes, ponds, streams and rivers throughout the state.
Bobby N. Setzer Hatchery stocks catchable trout in public mountain trout waters of 15 counties in western North Carolina. Brook, brown and rainbow trout are distributed among approximately 80 different streams and lakes using two-ton trucks with insulated transport tanks. Water recirculation and aeration provide life support for the fish during the transport, which may last eight hours or longer. Three distribution trucks annually complete more than 200 stocking trips, covering more than 36,000 miles. (NC Wildlife Resources Commission)