It's spring in the valley and local businesses are gearing and spiffing up for another busy season. A few businesses are gone, but several new ones have opened. Ghost Town is under going a major renovation and on schedule to open June, and the Maggie Valley town council recently unveiled their initial plans for a Town Center to the public.
The proposed Town Center, is defined as a quarter-mile stretch of Soco Road from the Maggie Valley Festival Grounds entrance to Evans Cove Road. Soco Road would be widened and a thirty-foot wide center median would provide a tree-lined walkable space with parking and pedestrian crossings to shops and restaurants. Proposed for the project is an ice skating rink and venue space. The design will have an architectural see-through glass roof, with a concrete pad that would be used as an open market in warmer months.
Also part of the Town Center plan is a Veterans Memorial Park, a children's splash park,and restaurants with outdoor eating options. The overall idea of the project as described by Town Manager Nathan Clark is to get visitors to think of Maggie Valley as a destination where they could come, park their car and walk around, enjoying the scenery, the shopping, restaurants and attractions, as well as a gathering place for locals.
Ghost Town Village which failed to open last year is undergoing a large renovation and re-defining itself as a more diversified destination. On tap is brand new arcade, children's rides and a few adult carnival rides like a tilt-a-whirl and a Ferris wheel, an Appalachia artisans village, a vendor's market, and several new eateries. Also in the works is an extreme sport obstacle course, an air walk, and a gravity jump. The Appalachian Village will host entertainment, a museum, and also offer daily horseback riding. Visitors can also pay $10 per person to ride the 20 minute ski chair lift to the village.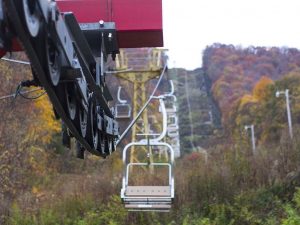 New restaurants in Maggie Valley this year are Christoper's in the Valley and Garrett's Chop House. Garrett's has been open since December and has been doing a very good business. Open 4-9 Tuesday-Thursday and Sunday, 4-10 on weekends, Garrett's offers american fare, steaks, prime rib, and seafood. Garrett's currently has a 5 star Yelp review rating. Christopher's in the Valley is opening in the former Cataloochie Cafe space and is scheduled to open April 1st. Hours are Tuesday-Saturday lunch 11-2, and dinner 5-8. Christopher's will be offering Italian cuisine, pizza, burgers, and very reasonably priced bottles of wine and local craft beer. Website/Menu.
Recent new Maggie Valley business openings include WNC Real Estate Store next to Subway, Good Life Cigars and B&C Winery both in the Maggie Town Center Shopping Center, and Sutton & Sons Antiques Mall expansion on Soco Road near the Waynesville/Maggie boundary. All these new businesses are up and running and looking forward to local and visitor business this year.
Another upcoming big and exciting addition to the valley is Elevated Mountain Distillery currently renovating and up-fitting the old Carolina Nights building. This will be a working distillery with tours, tastings, and sales. Water supply issues for the sprinkler system has caused some delays in opening as they now have to horizontally drill across five lanes of Soco road. The distillery should partially open this summer, and begin distilling in the fall.